I love Austin for a lot of reasons, but one of the biggest reasons is the huge number of restaurants that make it easy to go out to eat as a family with small kids.
In past cities we've lived in (get it together, Houston and Dallas!), kid-friendly restaurant options just meant that the restaurant was relaxed, tolerated kids and maybe had some space for kids to run around if you were lucky. In Austin there are dozens of restaurants that not only have plenty of room but have constructed playgrounds so kids can play and get their energy out while adults get to enjoy their meal!
Here are the more than 40 restaurants with playgrounds in and around Austin (and breweries too!), organized by area of town! Whether you're visiting Austin or just looking for a new spot to try, you're sure to find something both you and your kids will love.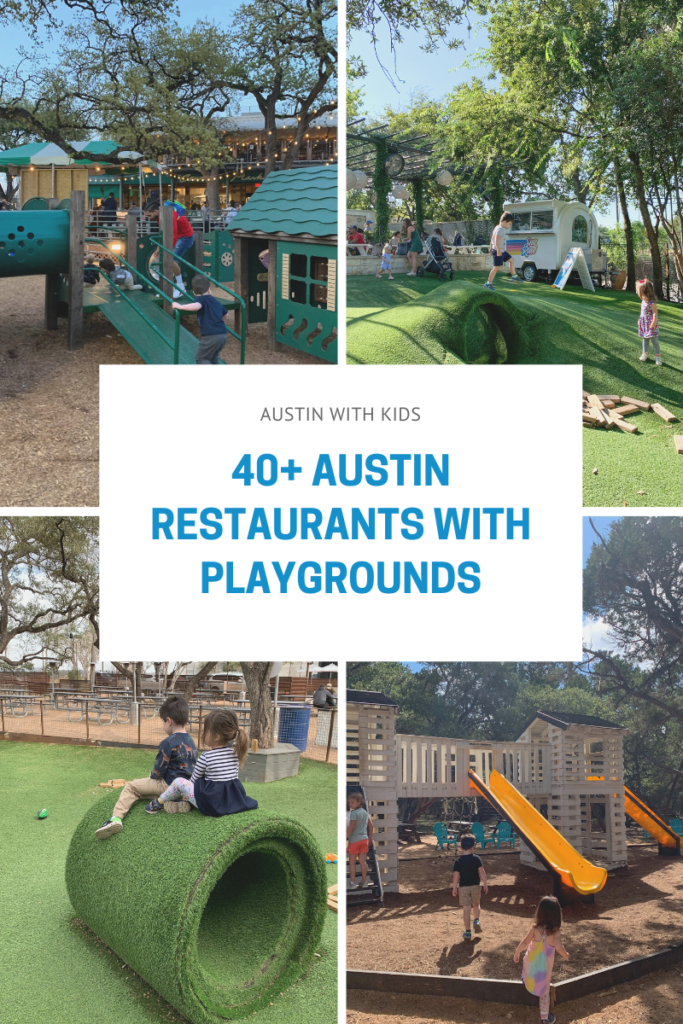 If you're looking for my top recommendations, my top 10 favorites are:
Central Market North Lamar
Phil's Icehouse
Hat Creek
Fieldhouse at the Crossover
Brentwood Social House
The Hive
Meanwhile Brewing Co.
Littlefield's
Easy Tiger South
Fitzhugh Brewing
Find one near you with this map!
Multiple Locations
Cedar Park
12100 W. Parmer Ln Ste. 200
Cedar Park, TX 78613
William Cannon
4301 W William Cannon Dr E-1
Austin, TX 78749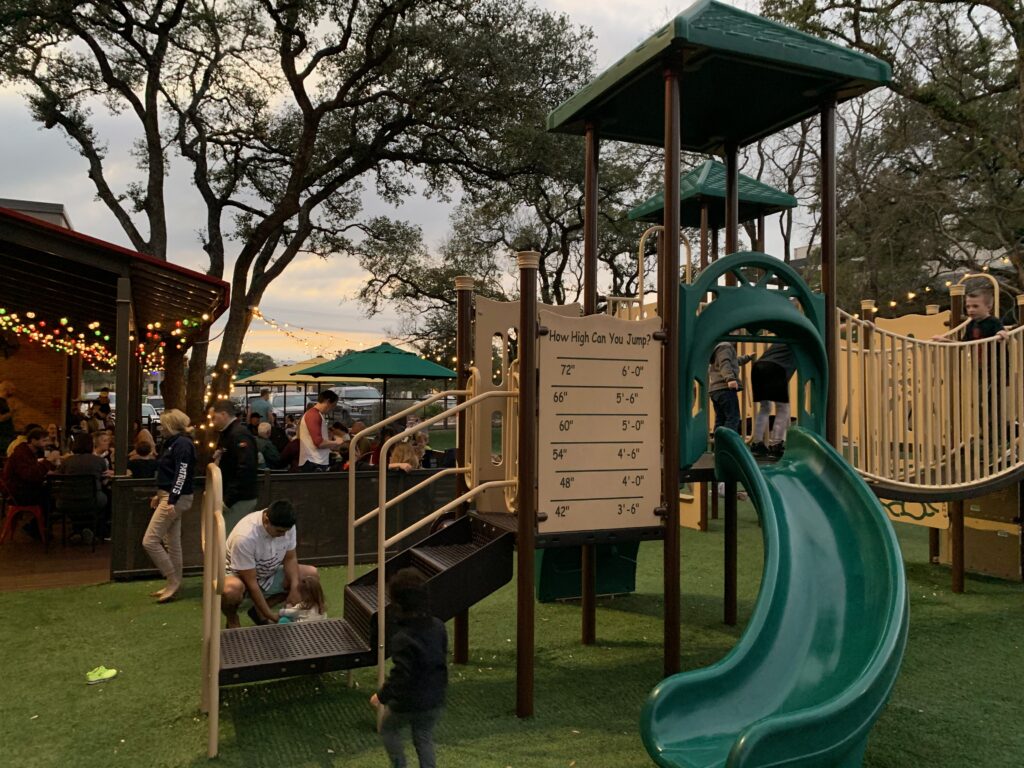 If you're in the mood for Italian, head to Mandola's Cedar Park location and let the kids run off their energy while you enjoy your pasta. There's playgrounds and space to run around. Bonus: Kids meals come with gelato!
Burnet
5620 Burnet Rd.
Austin, TX 78756
South Lamar
2901 S. Lamar Ave.
Austin, TX 78704
North 183
13265 US Hwy 183 N
Austin, TX 78750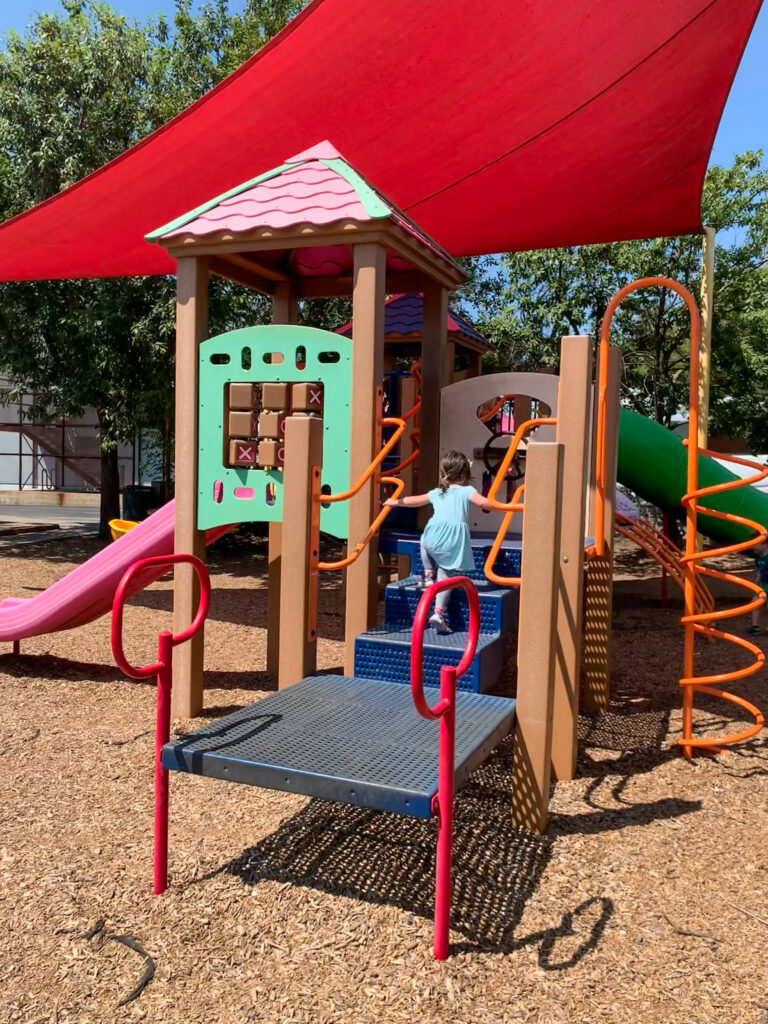 Phil's Icehouse is one of my favorite restaurants to go with my kids. I love their burgers and fries, and how each location's playground is different.
They're always next to an Amy's Ice Cream (because they're owned by the same people), so there's no question of what's for dessert!
Lots of locations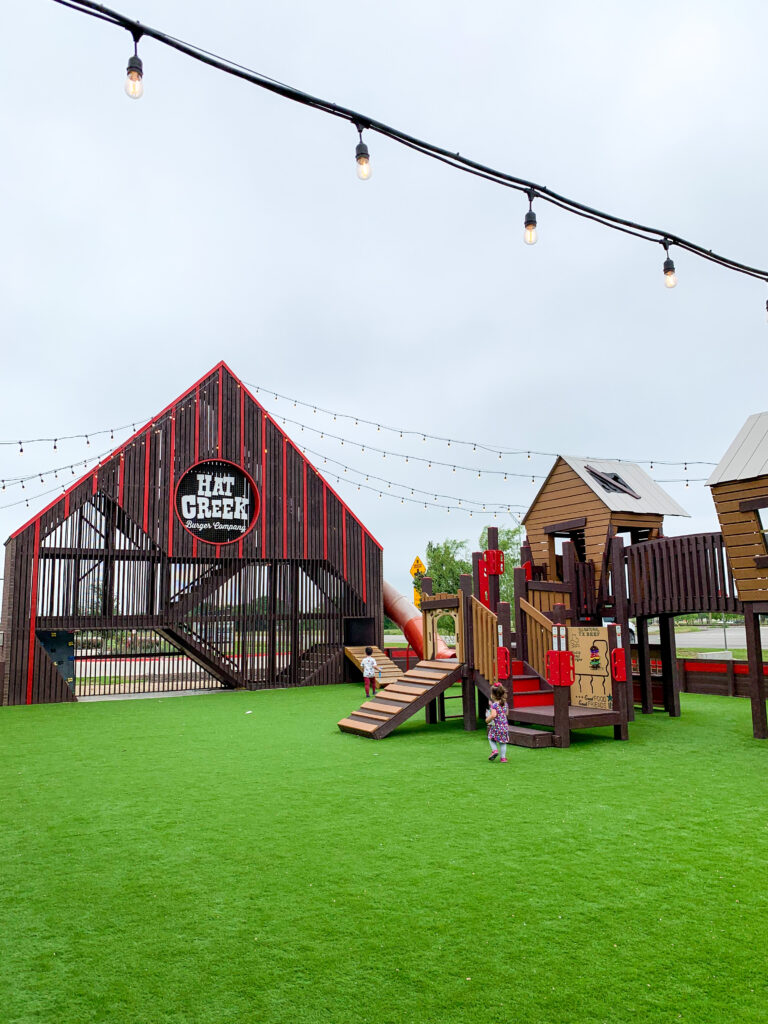 We've been to at least four of the Hat Creek locations around the Austin area, and they've all been great options. Even the Domain location, which can get a little crazy, is a great bribe to get your kids to cooperate on a shopping trip.
They serve breakfast and lunch/dinner options, so you can go in the morning and keep playing right through lunch (something we have done more times than I should admit)!
Burnet Rd.
8600 Burnet Rd.
Austin, TX 78757
360 & 2222
6203 N Capital of Texas Hwy
Austin, TX 78731
Escarpment
9600 Escarpment Blvd.
Austin, TX 78749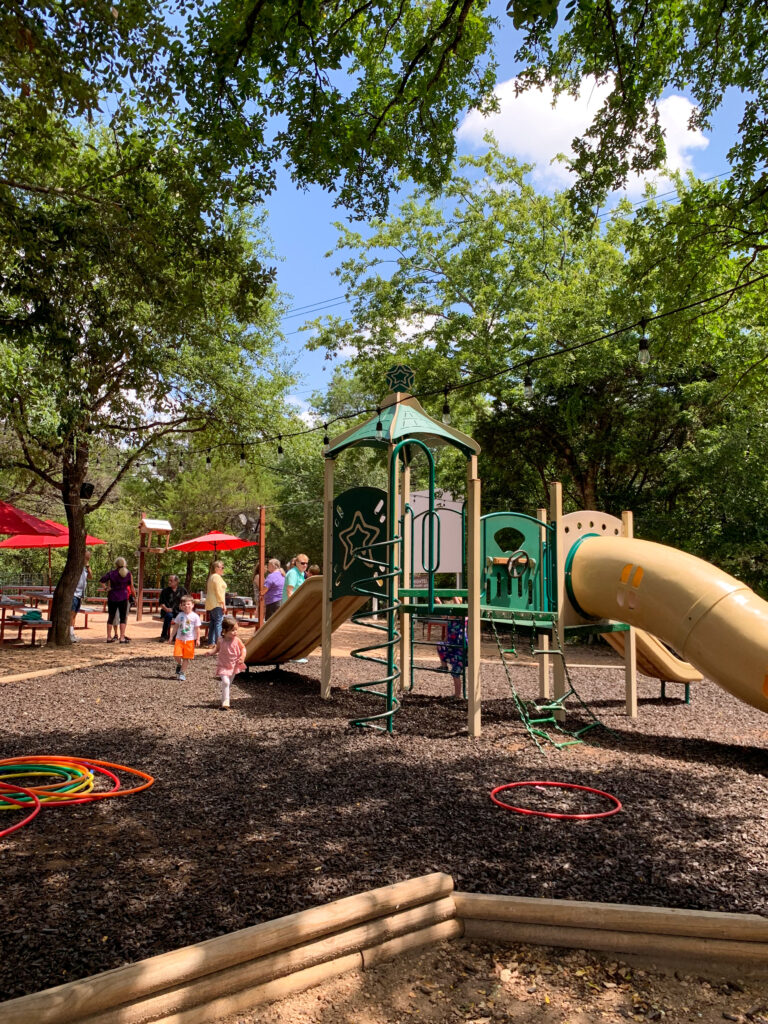 If you're on your way home from swimming or hiking at Emma Long Metropolitan Park, stop by the 360 & 2222 location of Waterloo Ice House for a meal or snack and let the kids play on the playground. Lots of space outside and lots of shady trees.
Fair warning on the Escarpment location — there are no tables in or right next to the playground area, so you can't really supervise from the table.
Central
4001 N. Lamar Blvd.
Austin TX 78756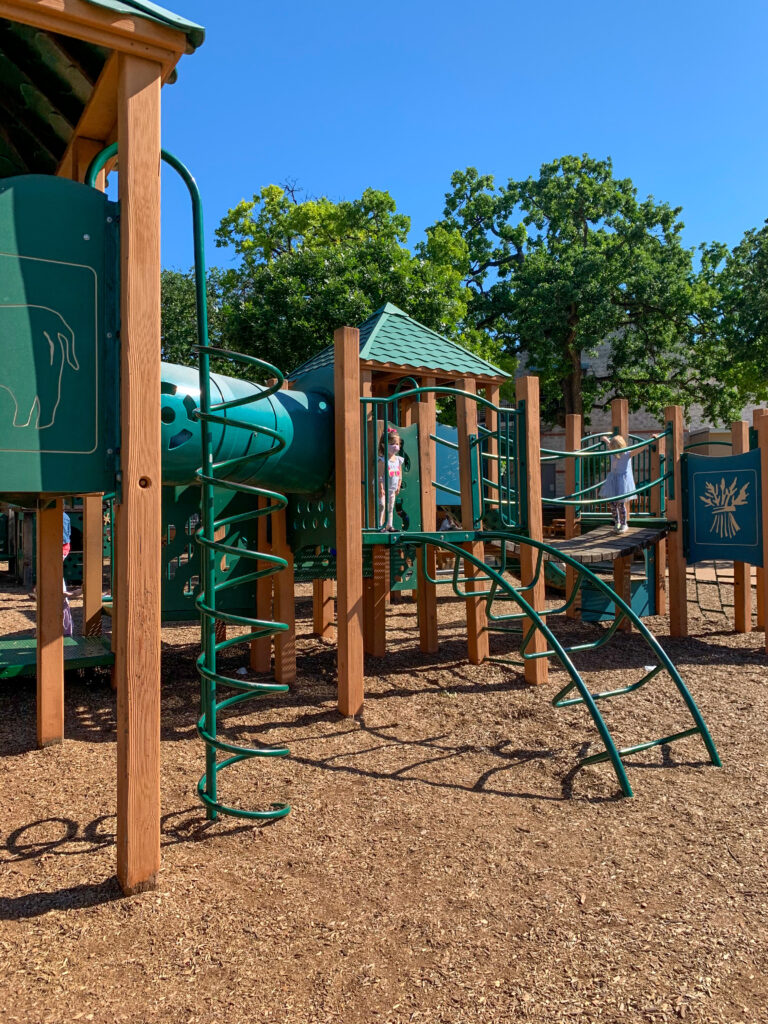 When we moved to Austin, everyone always told us we had to go to Central Market on North Lamar. I thought that was strange until we went there.
Huge patio with live music many weekends (you can check out the schedule online), restaurant and drinks you can order inside, a big-kid playground and a toddler playground, as well as a turtle pond with a huge low tree.
You can go for coffee on a weekday morning or drinks at night, they have kids meals, and you can pick up a few groceries while you're there!
525 N. Lamar Blvd.
Austin, TX 78703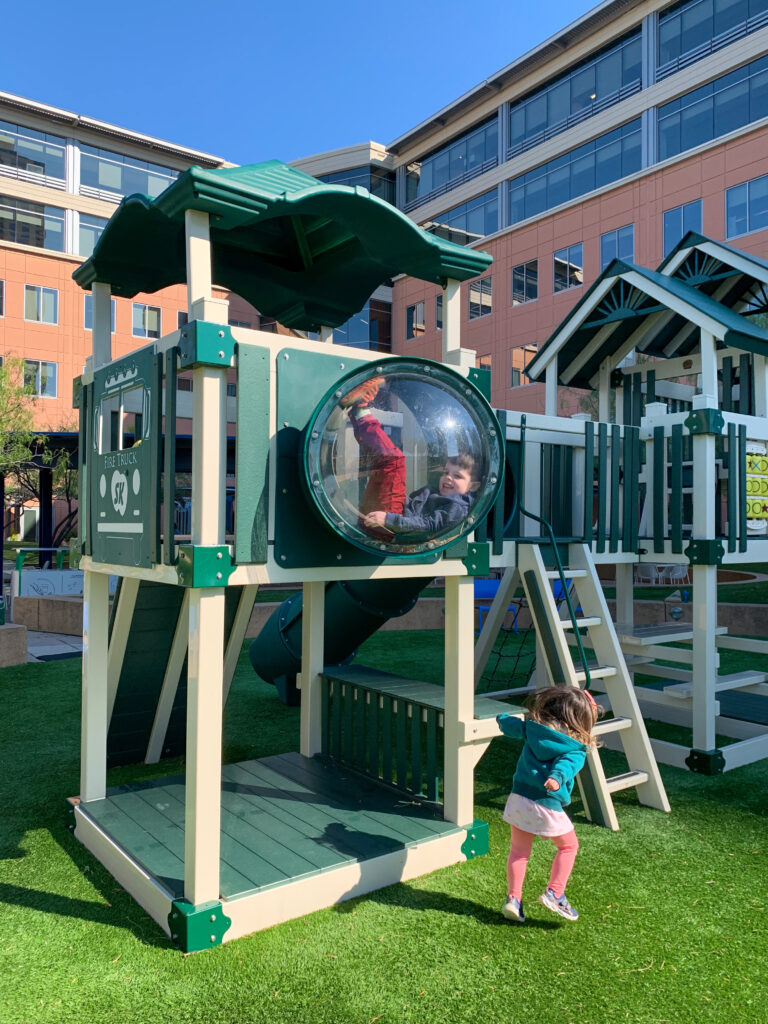 On the roof of Whole Foods downtown, there's an adorable little playground (recently replaced) — plus lots of shaded tables if you want to buy some food to eat up there and lounge chairs overlooking the street below. Whole Foods of course has grocery options, but also has lots of hot food to order if you want a proper meal.
There's a parking garage underground and an elevator that can take you straight to the roof or inside the store.
1601 W Koenig Ln.
Austin, TX 78756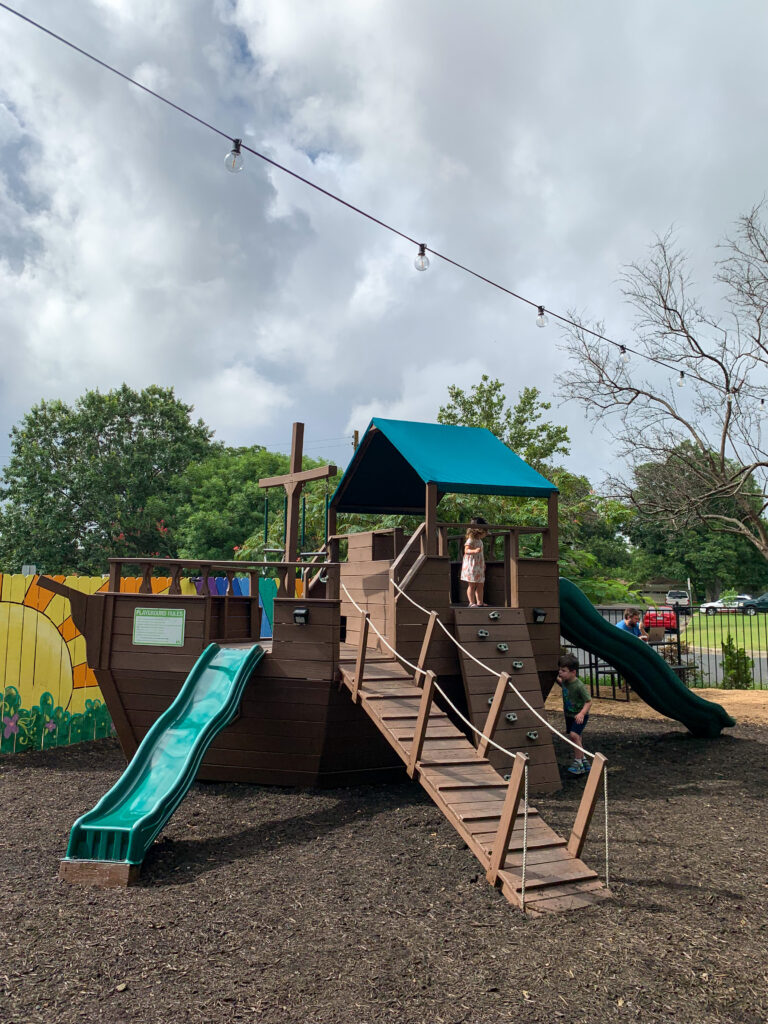 My kids love the pirate ship playground, and I love the small, fenced-in yard that makes it very easy to keep an eye on them. It's a great spot for a parent to get some work done, have some coffee and get some snacks for your kids.
Pro tip: The house made mustard is amazing. Order the pretzel with the mustard and you've got a meal.
2401 Winsted Lane
Austin, TX 78703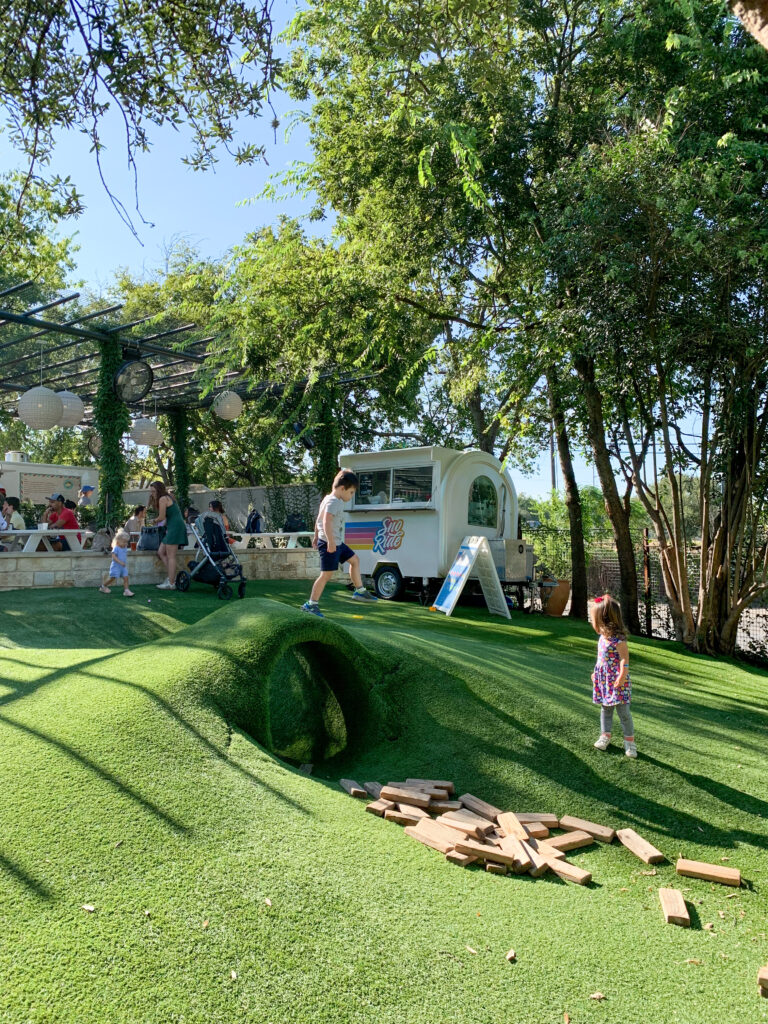 This is the cutest place right in the middle of Austin in Tarrytown! Come get Medici Coffee or Veracruz Tacos from their permanent trucks here, grab a table and watch the kids play on the turf hill and tunnel.
Parking is tricky — the lot is tiny and most of it is reserved for residents of the little condos right there. You should be able to find plenty of street parking, but there aren't a lot of sidewalks in the neighborhood, so be careful!
501 E. 53rd St.
Austin, TX 78751
Home Slice is an Austin classic — highly recommend if you're visiting and looking for a pizza place with Austin vibes.
The play area isn't a traditional playscape. It's a bunch of turf-covered hills and tunnels, which children seem to LOVE. We have several of these turf/hill type places in Austin, and I'm always shocked by how well and long my kids will play on them.
1302 S. 1st St.
Austin, TX 78704
This Mexican restaurant has a little backyard playscape with a slide and a small area for kids to dig in the dirt and play with small toys.
South Austin and Suburbs
10542 Menchaca Rd.
Austin, TX 78748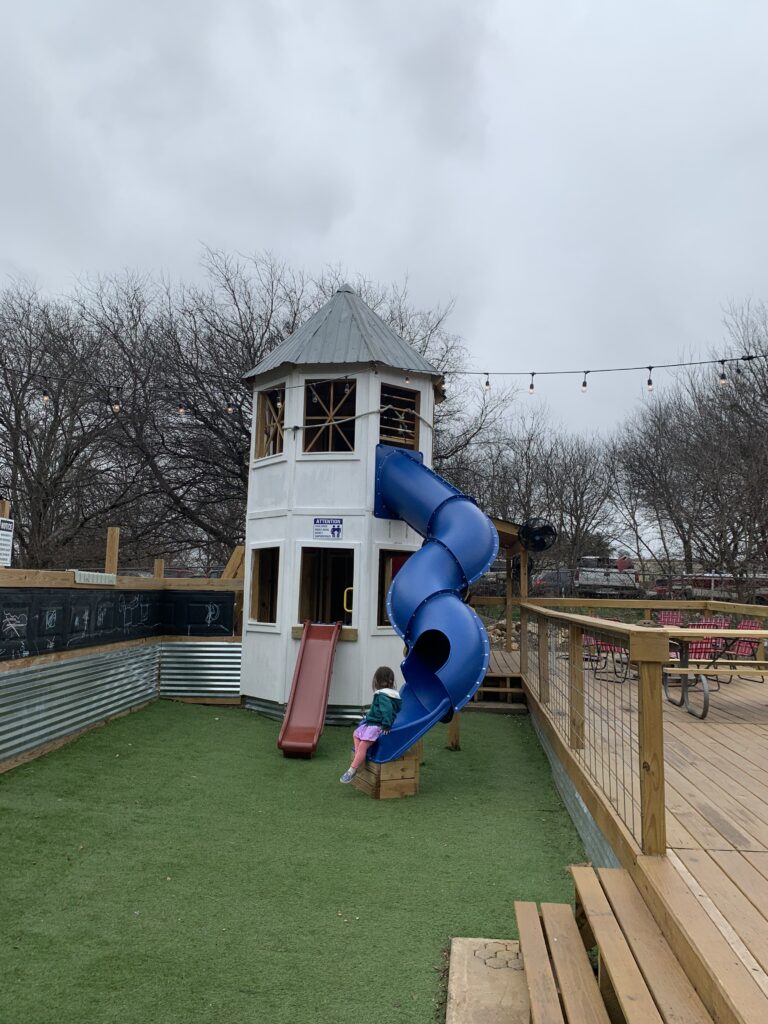 We love The Hive. It's the ideal place to hang out with a beer on a weekend day or grab coffee with friends during the week. There's a two-story barn playground built by the owners (with picnic tables right next to it) and a hilly turf area with a bunch of small playhouses perfect for toddlers.
They have coffee, beer, breakfast tacos, Bougie's donuts, and more.
6266 W. Hwy 290
Austin, TX 78735
This cool coffee shop at the Old Rock Store as you drive out toward Dripping Springs has live music, a food truck and a great playground for kids. Open 7 days a week, it's the perfect weekday outing or a good idea for a stop on the way home from the zoo or some breweries on Fitzhugh!
2027 S. Lamar Blvd.
Austin, TX 78704
This colorful place is lots of fun for both kids and adults — a great place to meet up with child-free friends where they'll still enjoy themselves! There's a cute fenced-in playground for the children and drinks, TV and pickleball courts for the grown-ups.
3508 S. Lamar Blvd.
Austin, TX 78704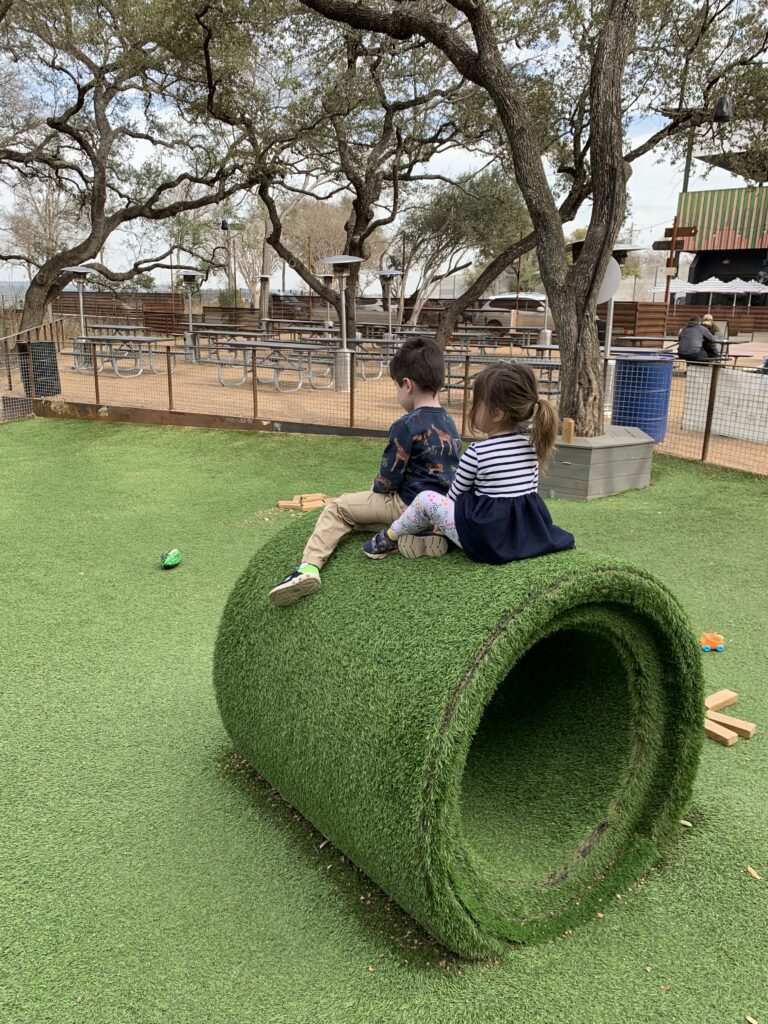 Relax at picnic tables under the big shady trees and let the kids play in the Little Tiger Den. It's a turf area with chalkboards, balls and blocks, and a tunnel that's just a little too big for kids to climb on.
5207 Brodie Ln. 100
Sunset Valley, TX 78745
Doc's Backyard has an awesome playground — it's like being at a park that has food and drinks. There's a little playhouse, big playscape and even park-style swings!
8600 290 West
Austin, TX 78736
This location of Metcalf doesn't have one playground — it has three! There's 2.5 acres for kids to run around and occupy themselves while you eat delicious barbecue.
North Austin
15515 Ranch Rd 620 N
Austin, TX 78717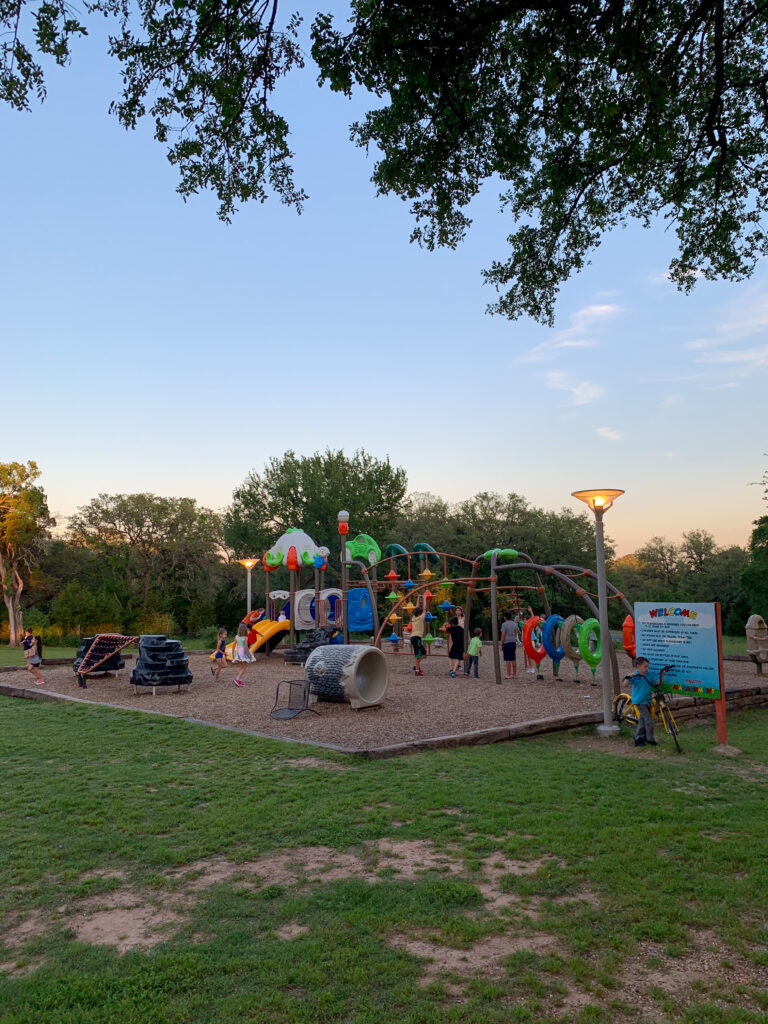 Mesa Rosa has a huge covered patio, so it's a great option even on sunny summer days. The yard is huge, the playground is a little bit different than your typical restaurant playscape, and you can watch with a margarita in hand.
You likely will have to go find the kids every once in a while because there are some spots that aren't too visible from the tables.
4005 West Parmer Lane, Ste. E
Austin, TX 78727
Aviator Pizza is one our go-to restaurants on a weeknight. It happens to be close to where we live, but I would drive farther for the good pizza, beer and patio seating.
The playground was a little too big for our kids when they were toddlers( the ends of the slides are kind of high off the ground), but there are also rocks and trees to climb on. The kids are always finding different ways to play there.
The whole patio is enclosed, but fair warning, the fence is just a couple railings, so we've seen some of the more adventurous kids climb through it.
12709 N. Mopac Expressway
Austin, Texas 78727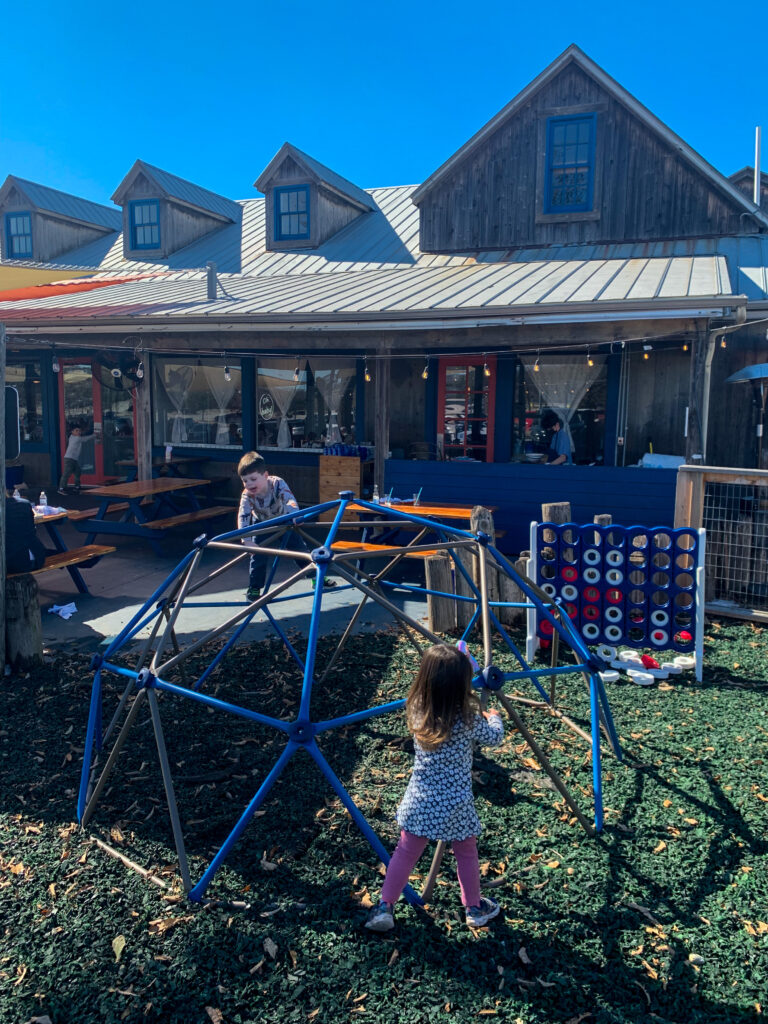 Garbo's moved to a bigger space in 2020 with a great patio and has added a play area (and a Blue Starlite Drive-In!) to its offerings. The fenced-in play yard is covered in rubber mulch and has a jungle gym, giant Connect 4 and a disc swing for kids to enjoy while you hang out and eat lobster rolls.
Connor's Creamery is connected to Garbo's too, so you can get a sweet treat after you eat.
10931 Stonelake Blvd.
Austin, TX 78759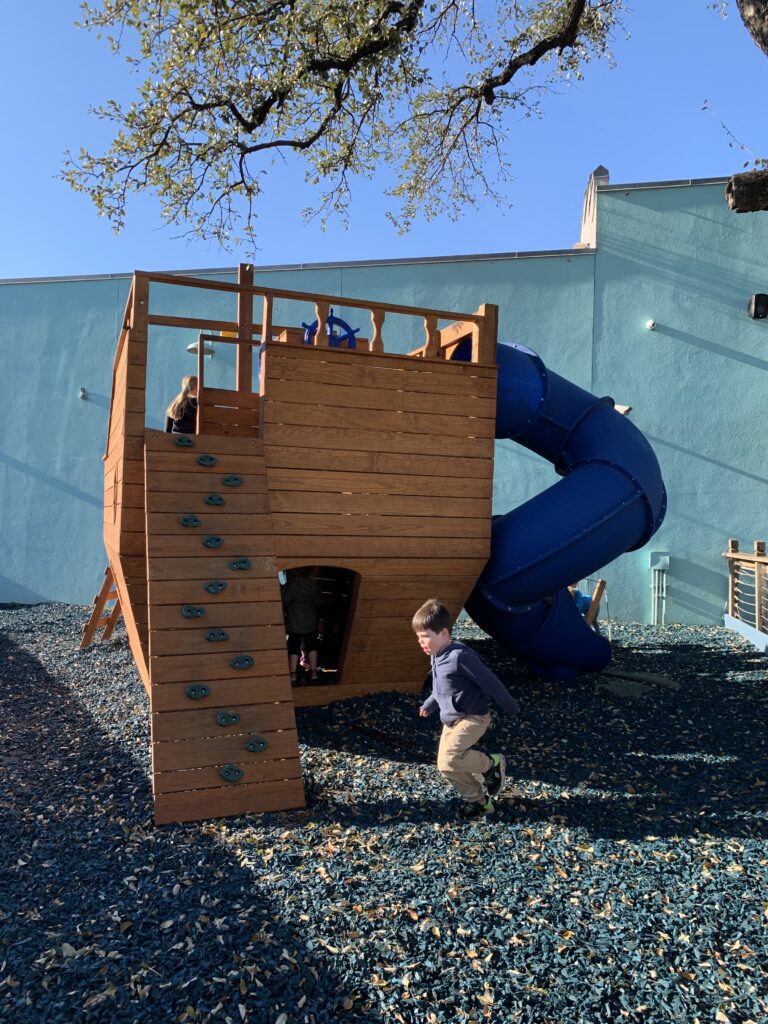 The Boat is a seafood restaurant complete with a boat playscape! It has a good sized patio, a couple of arcade games, and is just across the highway from The Domain.
The boat playground has a tube slide, secret hideout underneath for kids, and lots of ways to climb on board.
Northwest Austin
7709 Ranch Road 620
Austin, TX 78726
Barbecue joints are pretty laid-back places as is, but add in a playground and it's the perfect place for kids. If your kid won't eat barbecue (no judgment; mine won't!), there's also breakfast tacos, sides and a range of desserts.
10601 RR 2222 Ste. H
Austin, TX 78730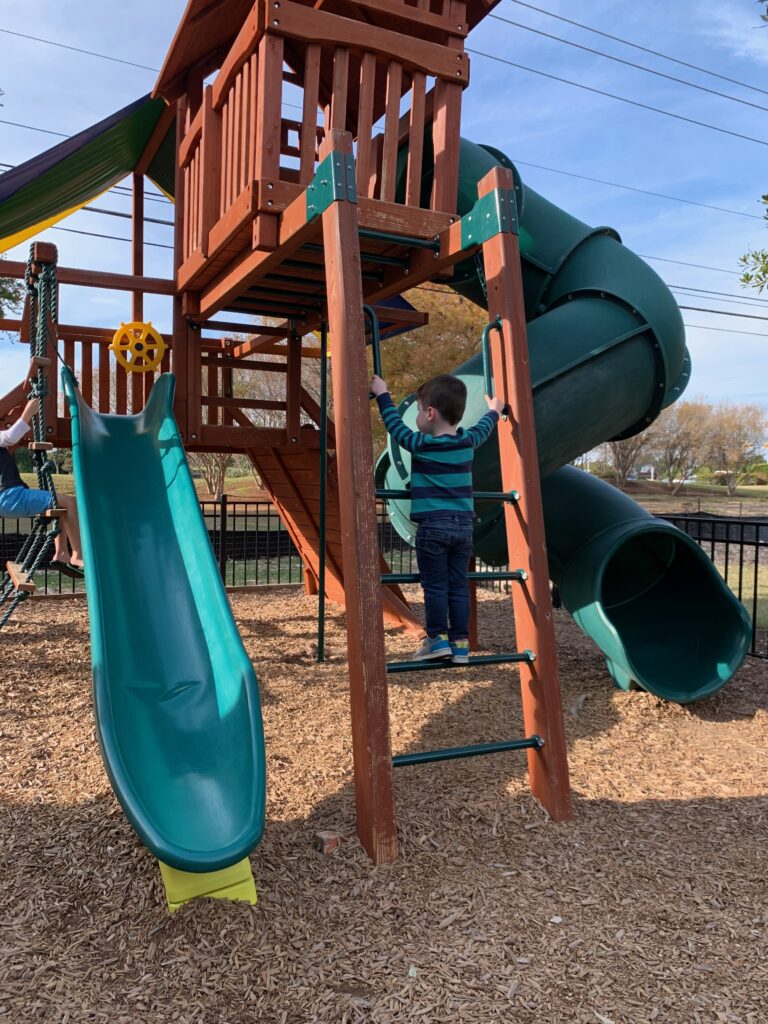 This is one of the first playground restaurants we went to after moving to Austin, and we were so impressed! There's a small covered patio with a playground to the side. There's also green space outside the fence with cornhole.
This is a pour-your-own-beer place (but they also have pour-your-own wine and cocktails), which is a cool concept, but I think it's a bit expensive and I'm terrible at pouring!
8300 N FM 620
Austin, TX 78726
Oasthouse and Flores Mexican Restaurant share a playground between their patios. It's a cool option for parents to be able to choose between gastropub fare and Mexican food.
11620 Ranch Road 620 N.
Austin, TX 78750
This Tex-Mex restaurant has a small play area with a slide outside on the patio. It's great for small children — just stay close because it's not fully enclosed and the parking lot is right next to it.
2905 Pearce Rd.
Austin, TX 78730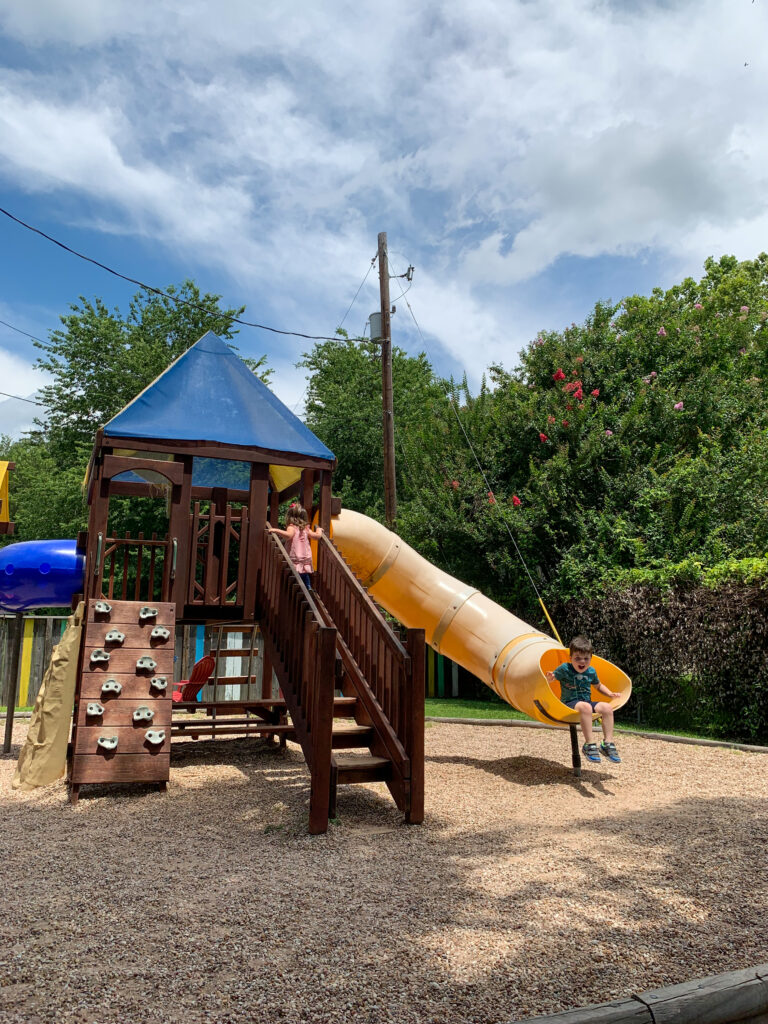 This Ski Shores location is a great spot if you're wanting to enjoy the lake, have a meal and some drinks, and let the kids run around. It is RIGHT by the lake, so you can even boat there. The playground is fenced off from all the tables, so you'll have to go back and forth with your kids during mealtime.
Northern Suburbs
2120 N Mays St.
Round Rock, TX 78664
Kerbey Lane is an Austin institution. It's already great for kids because of the range of meal options, including special pancake flavors, but this Round Rock location ups the ante with a playground outside their patio.
Let the kids run free while you're waiting for your food and enjoying a coffee or boozy drink.
201 University Oaks Blvd.
Round Rock, TX 78664
These three Round Rock restaurants share a playground outside of their patios. Mighty Fine Burgers is the closest and probably easiest to supervise your kids from your table (and closest to the entrance to the mostly fenced-in playground), but they're all a bit separated from the play are.
I'd say this is a good option for playing before or after the meal when an adult can come actively supervise or for older kids you trust to be farther away from you.
3350 East Palm Valley Blvd.
Round Rock, TX 78665
Right next to Dell Diamond in Round Rock, you can grab some barbecue and let the kids play on their playscape while you eat nearby outside. It's a great place to meet up with friends before a Round Rock Express game!
1717 Scottsdale, Ste. 160
Cedar Park, TX 78641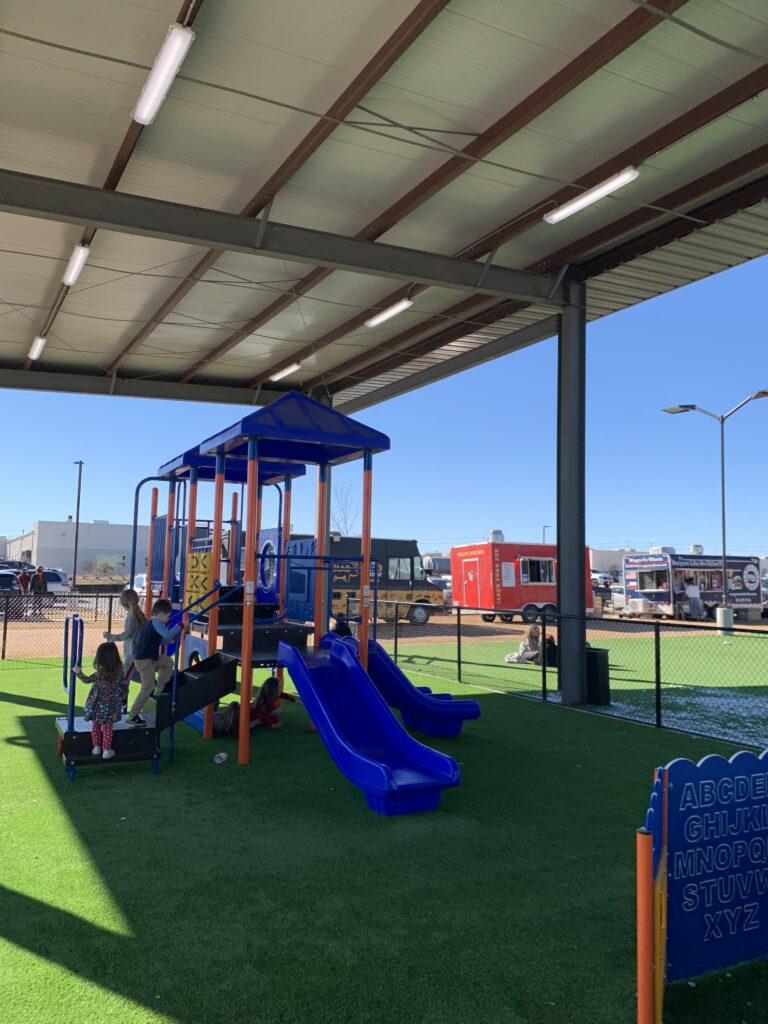 This is a great place for both kids and adults to play! Fieldhouse at the Crossover has pickleball and volleyball courts you can reserve, cornhole, a soccer field and a shaded playground.
The Fieldhouse offers a ton of different drinks — beer, cocktails and wine — and there are several food trucks on site. Check out the website to find out who's there now.
This place feels a little upscale but is made to be family-friendly. And the bonus to being in the suburbs — plenty of parking!
401 E Whitestone Blvd. A-108
Cedar Park, TX 78613
This home-cooking restaurant has a playground and huge jungle gym. It's fenced in, but there are picnic tables just on the other side of the fence for easy watching.
2301 Brushy Creek Rd.
Cedar Park, TX 78613
This relaxed Cedar Park property has a barbecue truck and a taco trailer and is BYOB. There's one big playground and several small areas perfect for toddlers.
Austin Area Breweries With Playgrounds
Find descriptions of all of these breweries in this post!
15435 Fitzhugh Road
Dripping Springs, TX 78620
4514 Bob Wire Road
Spicewood, TX 78669
13187 Fitzhugh Rd.
Austin, TX 78736
3901 Promontory Point Dr.
Austin, Texas 78744
3001 Industrial Ter.
Austin, Tx 78758
19510 Hamilton Pool Rd.
Dripping Springs, TX 78620
13551 FM 150 W
Driftwood, TX 78619
4700 W Fitzhugh Rd.
Dripping Springs, TX 78620
2500 W New Hope Dr.
Cedar Park, TX 78613
23663 Ranch Road 12 @ Ghost Note Lane
Dripping Springs, TX 78620
3220 Manor Rd.
Austin, TX 78723
3108 Manor Rd.
Austin, TX 78723